Our Story
Country Covers (Renamed Fortis by Oliver Massy-Birch in 2016) is the product of farm diversification, the founder (Hugh Massy-Birch)
Following compliments and enquiries about the individualised tyre cover on the back of his Land Rover, farmer Hugh Massy-Birch began to make personalised versions for other people. This growing business led Hugh to then design and manufacture tough, waterproof car seat covers – that actually fit! The tyre and seat covers were sold at country shows throughout the South-West of England. Growing demand led Hugh to purchase the specialist equipment needed to print and cut the sizes for different vehicles, then finally appoint a manufacturer in Birmingham to cope with the increasing demand for his products.
 Hugh Massy-Birch's first ever tyre cover and the tyre cover that started everything.
During this time, Hugh's growing interest in textiles and specialist fabrics encouraged him to buy into a military clothing company where he learned about the textile industry with a business manufacturing for the Special Forces, MOD and other military groups around the world. Being a director of the company, his knowledge grew fast and Hugh proceeded to set up his own manufacturing premises on the family farm. He converted an old lamb barn into a workshop and a showroom and so began his own unique designs of coats, jackets, smocks and trousers for the market he knew so well, the outdoor countrymen and women.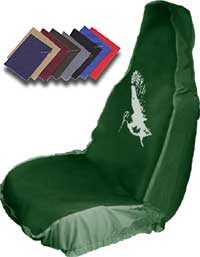 Hughes first ever Car seat cover.
Country Covers became a unique new company on the market, using military grade fabrics and waterproofing to make car accessories and outdoor clothing which were embraced by the civilian world. Hugh knew his shooting, fishing and hunting market well, saw this distinctive opportunity and grew the business into what it is today.
Country Covers First logo.
Since 2004, through three phases of specialist trading in tyre covers, car seat covers and clothing, Country Covers has supplied customers with the most reliable, durable and unique endurance products. Our Ripstop Polycotton fabric is made by ourselves in Devon, UK, and used by specialists globally. The fabric, with its mixture of durability and breathability is combined with a great waterproof finish, making it one of the best quality endurance products that you will find on the market today.
Due to our particular success in producing endurance clothing, Country Covers now needs to adopt a new brand name which better represents our core business. We are therefore happy to announce 'Country Covers' will become 'Fortis Clothing'.
Ethos
ETHOS
We have chosen a title we feel perfectly reflects our ethos as a company. Fortis derives from the Latin word for 'Strong'. This is a term we feel embodies our company perfectly, from its solid family values to the quality and durability of its products. Whilst developing a brand for our clothing is part of expanding the business, our values will remain firmly the same – Fortis Clothing will continue to provide 'Peak Performance' in top quality endurance and sporting clothing. Become part of the Fortis family and start your journey with us.
CONTACT US
We look forward to seeing you throughout the year, either at country shows or at our showroom and factory in Hartgrove Hill Farm, Axminster, Devon.
Visit our website at www.fortisclothing.co.uk.  Prefer to order by phone? Call – 01297 442 180
Please continue to tell us of your experiences with our clothing and your exploits from around the globe and the great outdoors via Facebook, Twitter and e-mail. We love to see photos of our customers using the gear for the purpose it was designed and made for! We would also like to thank all our customers for their support during 2017 and look forward to your continued support during 2018 and beyond. Country Covers / Fortis (which?) is on Twitter & Facebook. Follow our adventures around the UK and get information about new offers and products as they are released.
Social Media
Twitter
Instagram
Facebook
Google Plus 
Prefer to order by phone?
Call – 01297 442 180
The Workroom
BRITISH MANUFACTURERS
We are proud to say that Fortis Clothing is a completely British manufacturer. All our clothing is made on site at our family farm in Devon.  Our workroom team is dedicated to providing the best quality outdoor apparel and they take pride in the garments they produce. From designing a new item, to cutting the material, to mastering the sewing machines, it is all done under one roof on the family farm. We try to source all our materials from the UK, thus supporting the British Business Environment. Being a proud British Manufacturer we can provide specialist orders and can manage any ideas you may have to suit your needs to combat the elements.